FCPA FREE Nationwide Winter FCPA CE Seminar
February 14th - 16th, 2020
Wyndham Celebration Hotel, Kissimmee, FL
(Interim name Days by Wyndham Celebration)
3011 Maingate Lane, Kissimmee, Orlando, Florida 34747
FCPA. The Fun Chiropractic Physician Association
Come for the CREDITS: great medical chiro classes.
Come for the FREE show: FREE making money coaching classes.
Come for the FREE food, FREE parties.
Come for the Fun for all, FREE for all. It's the party. 
Come on!
Oh, did I forget we have 55 of the best speakers also.
Remember the FCPA is the best is every aspect and all volunteer.
131 Hours of FREE great advanced thinking medical/chiropractic classes
101 credited CEUs
30  hours of personal Money Making classes to choose from
Need Credits? ONLY pay for what you NEED
5 Credits or less $100
Up to 26 Credits cost $200
FREE Credits for 1st Year DCs and CCPAs

CE Classes Approved in FLORIDA for DCs and CCPAs
Offering 26 CEUs over three days 6 hours on Friday (1pm – 6:50pm), 10 hours on Saturday (8am – 6:50pm) and 10 hours on Sunday (8am – 6:40pm) for the state of Florida 
(Some states only allow 8 hours per day of instruction. It is your responsibility to check your state rules.)
All core classes will be offered including HIV/AIDS and Acupuncture. 
Practice Management Classes
Brent Baldasare DC – Entrepreneur, Chiropractor, Master Coach
Paul Jaskoviak BS, DC, Dipl Med Ac, FIMA, DACAN, CCSP, FICC – Chiropractic Educator, Researcher & Author
R. Ernest Cohn MD, NMD, DC, FACO
James J. Lehman DC, FACO, DABCO – University of Bridgeport
Jeffrey Langmaid DC – Founder of the Evidence Based Chiropractor
Paul S Inselman DC – Business Develpment Expert
Brian Koslow – Entrepreneur, Author and Coach
Please familiarize yourself with our Attendance and Scanning Procedures prior to the event to avoid confusion or loss of valuable CEU minutes at the conference.
The Health Sciences Postgraduate Education Department at the University of Bridgeport has applied for continuing education credits in the following states.
ACBN, Alabama, Colorado, Connecticut, Delaware, Florida, Georgia, Hawaii, Idaho, Illinois, Indiana, Iowa, Kentucky, Louisiana, Maryland, Massachusets,  Michigan, Mississippi, Montana, Nebraska, Nevada, New Hampshire, New Jersey, New York (*), North Carolina, North Dakota, Ohio (Category 3), Oregon, Rhode Island, South Carolina, South Dakota, Texas, Utah, Vermont, Vermont ND, Virginia, West Virginia, Washington, Washington DC, Wyoming  
(* New York approved classes are marked on the schedule)
(Please note approval exceptions are applicable – please check with your state board what has been approved)
Alaska, Arizona, Arkansas, California, Kansas, Minnesota, Missouri, New Mexico, Oklahoma​, Pennsylvania and Tennessee.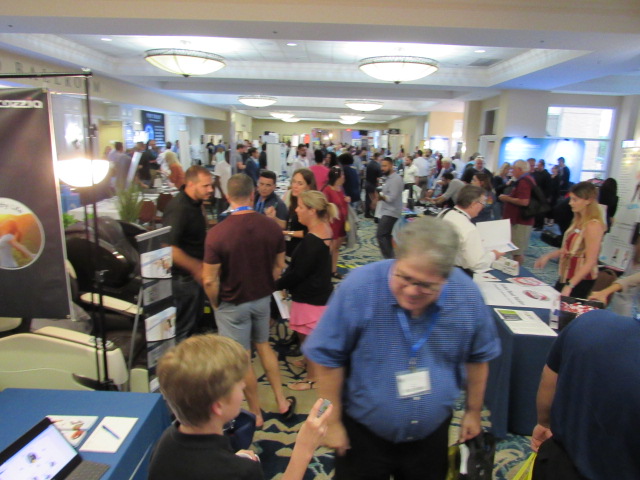 Important notice for Florida Licensees with Multiple Licenses and / or ACBN - CBCN
The processing fee for your FL License is included in the seminar price. FL CEUs have to be reported electronically and will be uploaded to CE Broker (no confirmation letter). There is a $35 processing fee for any additional licenses which includes the confirmation letter of your hours.
At the seminar
Upon completion of the hours you have to fill out the CE Voucher form, hand it over at the check-in desk.
After the seminar
After the seminar: All hours for FL licenses will uploaded to CE Broker, you should be able to print a report from your account. Since the FL CEUs have to be reported electronically we do not provide the confirmation letters.
Up to 26 CEUs in Florida 6 CEUs on Friday, 10 CEUs on Saturday
and 10 CEUs on Sunday
(Some states only allow 8 hours per day of instruction. It is your responsibility to check your state rules.
FL allows 10 CEUs per day)
Please note the schedule is for viewing only and subject to change without prior notice, please make sure to check the final schedule at the event.
Celebration by Wyndham Hotel
Family-friendly hotel, minutes from Disney World and Universal Studios
Experience all Kissimmee and Orlando have to offer at Wyndham Celebration, off I-4 and US-27, and 24 miles from Orlando International Airport (MCO).
We offer thoughtful amenities, ample event space, and a free shuttle to nearby Walt Disney World® Resort theme parks like Animal Kingdom®, Epcot®, and Magic Kingdom®, as well as Universal Studios Florida™ and SeaWorld® Orlando. Zip into downtown Orlando to catch a concert or sports game at the Amway Center or relax back at the hotel, featuring a restaurant, pool, and views of evening fireworks.
The hotel is now fully booked over the event days
There are however many hotels available only short distance away.
Here is a selection of few hotels in the closest area or click on the image below